The year 2016 has been a year of firsts. Okay, it's also been a year of seconds (I released my 2nd album in April), but in some memorable ways, a year of firsts. The most memorable is that I went on my first solo tour. I drove on interstates turned turnpikes from Memphis to Maine, playing in mostly living rooms and a few other venues. And this led to another first: 
driving in Boston. 
No one prepared me for Boston. When the GPS tells you to turn right, there may be 2-3 "rights" - a sharp right, a slight right and a "keep straight" that actually sort of veers to the right. Then there's the double-parking. Someone can't find street parking, so they just put on their flashers, barely pull off to the right side of the lane, then dash into the liquor store to buy their whiskey - all right at a stop light where I can't get around them. Then I GET HONKED AT for not maneuvering around them quickly enough. This makes no sense to me, especially coming from the South, where honking isn't often heard.
But I did it - I drove around in Boston. And by the end, I felt very proud of this. Besides, it was worth it - two of my best house shows on the tour were in Boston.
The decision to solo tour - a big trip without my percussionist husband, Jeff - was like driving in Boston:
I knew that, at some point, I just had to dive in and do it.
The only way to know if I
could
 do it was to... do it. I had to plan the shows, pack the gear, gas up the car and drive. And drive, I did.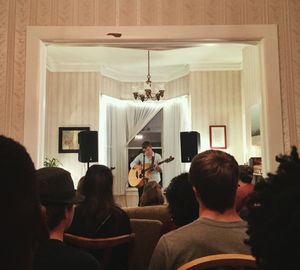 Boston House Show
I blogged about the tour in earlier posts (found
here
and
here)
, and now that I've been home for a couple of months from two solo tours (I went to the Midwest for a handful of shows in November),
I'm learning what kind of musician I want to be. 
Upon returning from touring, I found new joy and contentment in the everyday things of home-keeping, from washing dishes to doing laundry to calling up my friend Kim for a walk. I love stability. I love rootedness. I very much value the life we've built here in our home and neighborhood.
And I also loved touring! When I set out on the tour from Memphis to Maine, I didn't know how I'd react to being on the road alone. It turns out, I loved it.
But the songs I write are born out of a life of rootedness, a life of stability.
The sounds and sights and hurts and desires of everyday life make these songs that I sing. I want that to continue to be my story of songwriting and song-sharing. In order to take songs and stories out on the road, I need to continue to reflectively live my life in Memphis, lingering in moments that are asking me to pause and see what's unseen, to walk out onto the "frontiers of the unsayable" (a phrase I take from Marilynne Robinson's 
When I Was a Child I Read Books
) and attempt to help us navigate those frontiers by saying 
something
. 
It's exciting to imagine where touring, in the months and years to come, may take me; and it is a restful joy to know where my home-life will keep me.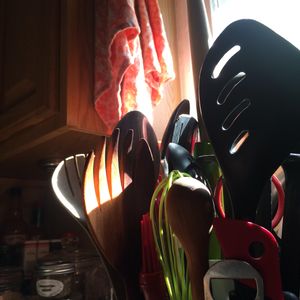 The "unsayable" something, coming in through the kitchen window.