I'm in a season of working to get the word out, educate and build a network of friends and fans and friends of fans (and friends of fans' friends friends... wait, what?) who are wiling to host a house concert. When done well, they are fun, rich, beautiful, full of laughter and great way for hosts to extend hospitality to their community.
I will eventually have a page on my website dedicated to house concerts, but, for now, here are some common questions I hear. I hope these are helpful as a starting point for you!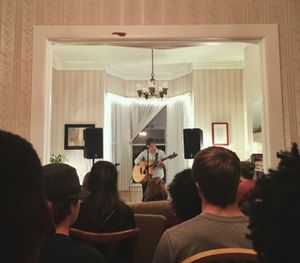 What is a house concert? It is just like it sounds - a concert in your house with original songs and a small sound system. It's helpful to also know what a house concert is not. A house concert is not background music for your office party. And it is not just a "house party." I've been known to make people cry with a few of my songs, so... I'm not really, you know, party material.
How many people do you expect? I ask for hosts to do their best to get a minimum of 20 adults there, and if the space is large enough, we've had as many as 45-50!
Can we host this outdoors? You can. However, I gotta say, I prefer to be inside. There are all sorts of distractions outside: kids on bicycles, loud cars, squirrels and mosquitos.... oh, the mosquitos. But, I've had good outdoor shows [sometimes]. If you have a closed in outdoor space, maybe with a high fence, maybe a cool patio that looks like a stage, it can still work well. We'll talk.
What does the set-up look like? Most people gather all the chairs they have around their house and put them in rows in their living room (or biggest space in the house) and maybe add some pillows and blankets around the outer edge of the room, on the wall, and re-arrange their and couch and chairs to be cozy. Then they point them toward us to create a "listening space," a space that will communicate by its layout that this is a time to listen to stories and hear songs - a concert!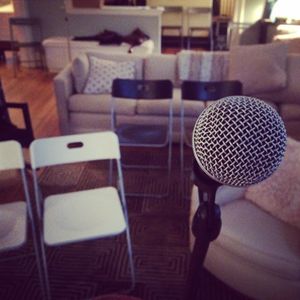 Is there food and drink? Yes, there is always some sort of food/drink situation - even if it's just coffee/wine and snacks/dessert. We have had many hosts, though, do potlucks or cater dinner for their guests just because they wanted to! But this is up to you as the host.
Who do you invite? Great question, actually. It's best to invite folks who trust you and will come to your events! Start with friends and family, your work friends, your church community, your neighbors, etc. Believe it or not, we've had several hosts meet their neighbors for the first time (or, at least, the first time to have them in their home) at a house concert!
How do we pay you? I do all my concerts as a donation-based concert. These are private concerts, where folks have to be personally invited or know a friend of a friend who is coming, and we use the language of "suggested donation" for attendees. We do often (i.e. for Advent House Concerts, which we do every year, and which are very well attended) ask for a guarantee from the host which is the amount they agree to pay us regardless of what we receive in donations. So, if the guarantee is $300, and we received $275 in donations, the host only owes us $25 to meet the guarantee of $300! Also, any donations over $300 still goes us, the artist.
Do you think I'd make a good host? We try to ask good questions to help a host determine if they are a good fit. Here's the thing: just liking our music isn't always enough. We used think it was. But if someone likes us and our music but never invites people over to their house, doesn't have many friends, or just moved to a town and doesn't know anyone, it might not be the right time to host a house concert. But you can move toward that! You can attend another house concert, see how it's done, meet some new people who might like house concerts, too, and build your network. Then, hopefully one day, you'll feel you've got a big enough network to draw from to invite folks!

We've had folks who aren't even fans yet (but they are friends of one of our fans) host GREAT house concerts! Do you know what makes those hosts great? They are already hospitable people who regularly open up their home and welcome folks in, and because of that, the people they invited know, "Hey, so-and-so always hosts a good event, so even though this house concert thing sounds a little odd, I'm gonna check it out anyway!"
We'd love to help you learn how to host. Email Abbye at abbye@abbyewestpates.com. Let's go!