Why do some of us need to come to the solitude of the forest? Time away from responsibility, away from being needed, away from accomplishing. I can let go of worry when I am here; contentment and rest find me here. I do not feel frantic about the future here.
And I may stumble upon inspiration here. 
One cannot will inspiration forth from beautiful places or solitude or any ideal scenario we have imagined and now found ourselves inhabiting.
Inspiration cannot be controlled. She cannot be summoned or called immediately into action or willed to act. She is entirely her own, will grow and appear when the conditions are present - and Inspiration gets to decide when the time is right. 
But you and I get to choose whether or not we will position ourselves to recognize her and listen to her. On this day, and in this time of solitude, I am positioning myself to hear and see and receive. I may say I am inspired, or I may say I have only rested in my time of not being needed. Both will do me some good.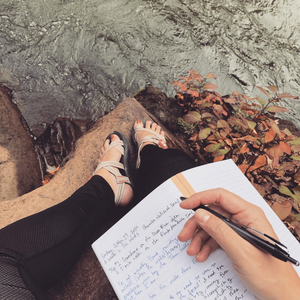 ---
Often when I go for a hike, or almost any walk with no agenda, I arrive at a place where it's as though Inspiration has been waiting for me. It's as though God is waiting for me. I've felt that strongly today, sitting by the Ocoee River in southeast Tennessee. And I wrote this prayer.
Magnificent, Everywhere-I-Go God,
I understand
that there is no place to where I go
hat you are not already there.
When I arrive to the riverside,
you have already set up camp, made a shelter for me.
You welcome me with a quiet turn or your head.
      You linger with me there unhurried, un-intrusive,
      in awe of all that you have created
      and continue to create,
            yet are happy to behold
           over
           and over again.
When I arrive to the mountaintop,
you take me by the hand before I can even finish the summit,
inviting me to the edge,
taking it all in.
       You gaze with me there,
       speechless at the majestic peaks. 
            I am at a loss for words
            because how can it be?
           You, choosing no words
           because what is has already been made good.
Would you keep walking with me
in the wild woods
on the city concrete
         in solitude
         and in anxiousness
         until all shall be well.
Amen.