When I first started running about 8 or so years ago, I worked up to a place where I could run a 10k (6.2 miles) without stopping to walk. Now, though, I find that a run/walk combo on most of my runs suits my body and mind better. I look forward to running more now that I don't put the pressure on myself to have to run the whole time. I know that I could work back to running-only, but I've learned that I don't need to in order to be a legitimate runner.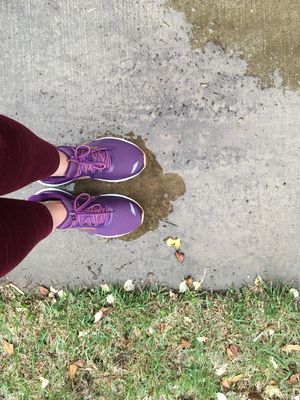 Rainy day run in my new running shoes.
But back then, I believed that stopping to walk on my run was somehow less-than. I would feel lousy after a run. A failure. I didn't make it. Couldn't finish the run. And this made me want to run less and less until I'd go months without running. If I couldn't muster up a run that day, I wouldn't even let myself go for a walk - it'd make me feel like a failure that I "only walked" that day instead of went for a run.

Yikes. I've never typed that out before.
A little over a week ago, I was wrapping up a 6-week virtual running challenge that, in my opinion, saved me from what could been an even darker season of #covid19 isolation. It got me out of the house for a run/walk multiple days a week, and I'm grateful to have stumbled upon the challenge. 

When I neared the end of the challenge, the mileage for that week was 8 miles. You can run, you can walk, you can mosey - it doesn't matter, as long as you finish the mileage! But I couldn't make it. Not only did I have to get home for dinner, but it was going to get dark. And I'd not really trained the week before in a way that would prepare me for 8 miles.

I made it 5 miles.

And at the end of that 5 mile run/walk, when I knew I couldn't make the 8 miles (and I'd already tried some different mental tricks to try to keep me going), I spoke something like this to myself: "Well, you didn't leave enough time tonight 8 miles, but you made it 5 miles. And that's good. And that's a lot further than you were running one month ago!"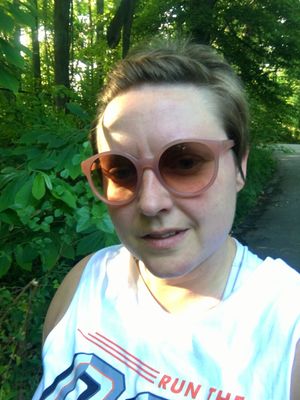 Selfie, right after I completed my 5 miles on 5/18/20
There's a time not long ago when  I would have gone home defeated, believing I'd blown it, not made my 8 miles, failure, not a good running. But who cares about the 8 miles? The running challenge was for me anyway - not for somebody else. It got me running again. It kept me outside during the most beautiful Spring I can remember in Memphis. And it kept me much healthier than I'd have been without it.
I'm so glad I'm learning to speak more kindly to myself. And I hope you can learn to do that, too.